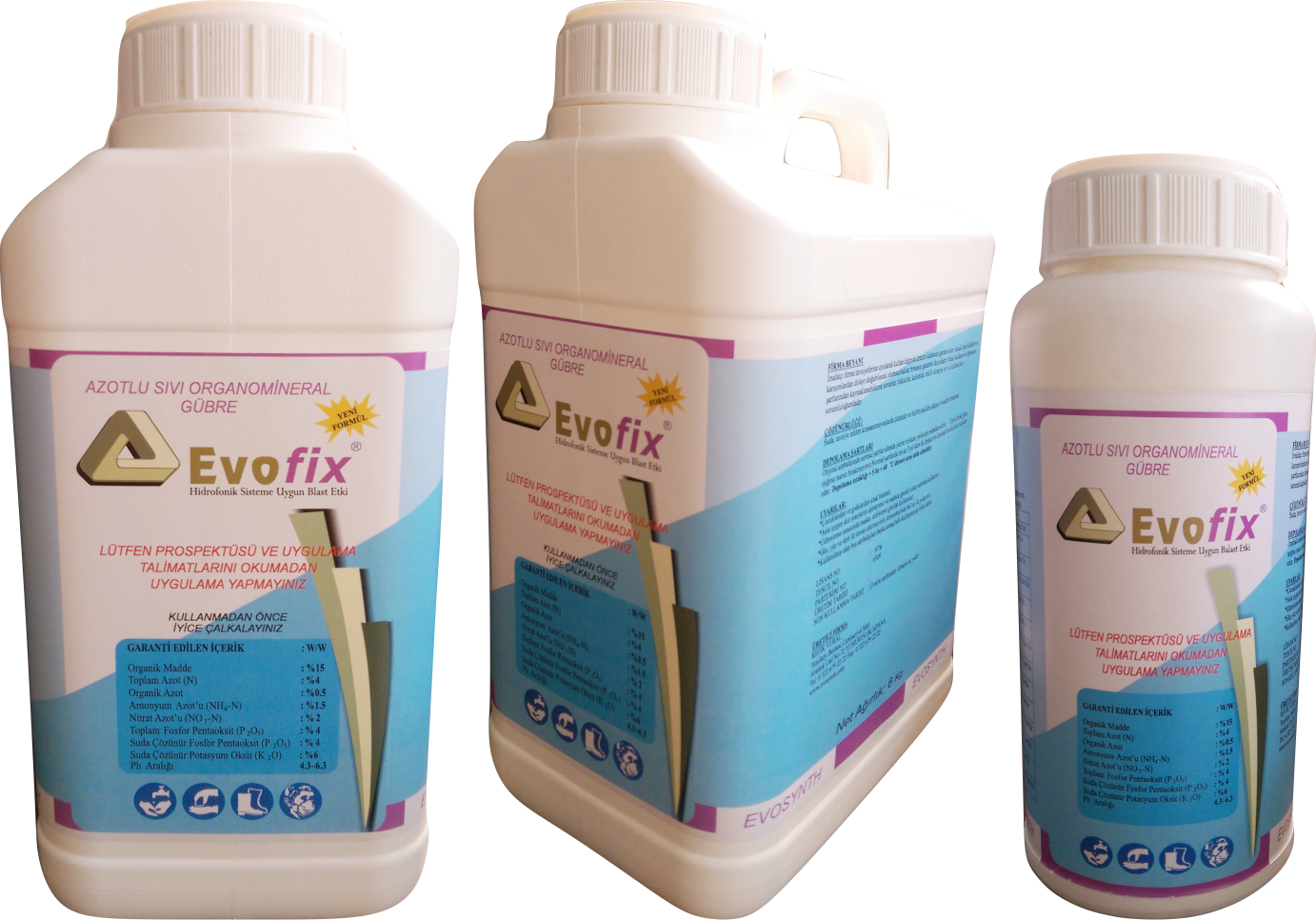 Evofix  is totally a herbal product and thanks to its high level organic material content, it enables the soil to enhance in terms of mineral and organic material. In early seedlings, it makes the plant release capillary roots and increases the plant's water permeability and ability of ventilation. It has important effect on vegetative development of plant. It prevents formation of duff layer within the soil. Other important functions of Evofix are as follows;
Increasing capacity of water retention of soil
Effective on ordering the distance between offspring and an homogenous distribution
Increasing the resistance of plant against stressful conditions such as drought, frost and excessive water.
Providing with enough and expected tissue hardness in fruit and plants.
Decreasing fall of flower.
Increasing quality of fruit and extending shelf lifetime.
Applicable in all kind of watering systems and mixable in all rates with water.
Evofix  that shows the effect of  balance in the plant feeding group has the pioneer formula in the market with its results mentioned below.
Evofix suggests crucial solutions for the foliation problem of plant thanks to its nitrogen source in the form of ammonium and nitrate within its structure.
Evofix , macro food balanced with completely water soluble phosphor and potassium within the content , meets the food need of the plant in a balanced manner. 
Evofix  regulates structure of soil and its composition by supporting root development and so, it enables the plant  to gain maximum benefit from the soil.
Evofix  facilitates the intake of  macro elements by the plant thanks to its humic and fulvic acid content.and shapes the structure of the soil positively
Evofix increases the number of useful microorganism  and so increases the efficiency of organic nitrogen and organic acids in the soil.
In the case of regular use of Evofix;  the soil starts to breath, the volume rises up, capacity of water retention goes up, extends watering and fertilizing duration and provides savings.
The plant gains resistance with Evofix against  general external negative conditions.
Evofix could be used in every term of sowed crop and  is focused on feeding the plant
 "Low dosage, but high application"
                                        Evo-Fix 
Guaranteed  Content                                              :   W/W
 Organic material                                                     : % 15
Organic Nitrogen                                                     :  %   2
Ammonium Nitrogen (NH4 –N)                            : %   1
Nitrate Nitrogen (NO3 –N)                                     : %   1
Total Nitrogen                                                           : %  4
Total phosphor penta oxide (PO5 )                     : %   4
Water-Soluble phosphor penta oxide(PO5 )     : %   4
Water-Soluble potassium oxide ( K2O )             : %   6
Stabilized Ph interval                                              :     4-6
IT SHOULD NOT BE FORGOTTEN THAT THE FERTILIZER SPRINKLED IN THE RIGHT TIME AND PLACE PROVIDES MAXIMUM BENEFIT.